July 19, 2017

-
---
April 17, 2017

-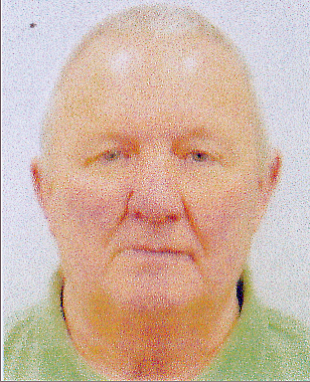 New bailiffs for Shepherds Way Roger Manser on the left and Mark Saunders on the right, please note these two bailiffs replace Trevor Williams who has stood down as bailiff for Shepherds Way.
Please remember when asked to show your membership card they are only doing their job for the club, also you should always have your membership card on you at all times when fishing our club waters, so there should be no excuse for not showing your card when asked.
---
April 13, 2017

-
I caught this carp at Shepherds Way on 9/4/17. My tackle was 5lb mainline with 3.6lb hook line on a size 16 hook, i hooked the carp in its bottom lip. The bait was 1 piece of tiny corn and a maggot, it took 15 minutes to land due to me worrying about line snapping.
For a fairly new angler I was very pleased with myself.
Candy Tillson
The carp weighed 15lb
---
March 4, 2017

-
Wally Spooner fished the peg next to the promontory with the windmill in the main lake. Tackle was 12 hook, hair rig with small feeder, carp rod behind alarms. Bait 2 6mm pellets halibut and robin red. Feeder had pellets plus ground bait. Fished 12.00 to 3.30pm, caught 5 carp, between 8 and 14lb, 4 commons 1 mirror all in good condition, fought well. Fishery peaceful, red kite orbiting overhead.
---
March 1, 2017

-
Another nice Carp from Shepherds Way for Ashley it weighed in at 12lb.
---
February 17, 2017

-
Stuart fish Blunham 14-02-2017 and had a couple of bream the biggest went just over 6lb he also lost a bigger fish, fishing the stick float he thinks it could have been a barbel.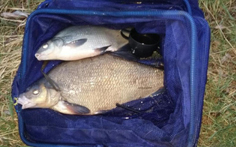 ---
February 10, 2017

-
Stuart, Rob, Melv and John have now cleared 10 swims on this venue, this is proving to be a good winter fishery. I have had reports of human waste on this venue, can I remind members that this should be bagged & taken home with you, or buried and not left for someone else to clear up.
Many thanks to Stuart & his team for all their hard work over the last few weeks, which has made this fishery fishable again.
---
January 30, 2017

-
Biggest fish Ashley has had out of Shepherds Way this 24lb Ghost Carp on 29th January 2017 on 3 pieces of sweetcorn on a hair rig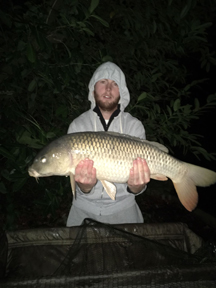 ---
January 12, 2017

-
Stuart Butterfield fished Blunham on the 11/01/2017 and had over 7lb of Roach and Dace in 3 hours, it also fished well on the Sunday 08/01/2017 the bait used was maggots, must be worth a fish now the weed has died back.
---
November 1, 2016

-
---