Venue Information
This water consists of one and a quarter miles of the River Thames in Berkshire, species that can be caught at this venue are Barbel, Bleak, Carp, Chub, Dace, Gudgeon, Perch, Roach, and Pike. The banks are tree lined which gives some cover and some good holding areas.
The downstream boundary is just upstream from St Patricks Stream, the first ten pegs give some excellent Barbel, Bream, Chub, Dace and Roach fishing, swims are very deep in the edge about 14 feet, moving upstream the swims shallow up to about 6 to 9 feet. Then you come to the upstream boundary, here the depth varies from 8 feet to about 12 feet again there is some excellent Barbel, Bream, Chub and Roach fishing.
This venue has produced Barbel over 16lb, Bream to over 12lb, Chub to 8lb, Dace to 12oz and Roach to 2lb over the seasons of 2019/2020.
There is a locked car park at St Patrick's stream end of the fishery.
Post Code RG10 9TN
or what3words  central.invest.rekindle
Directions to the water
Proceed to South Mimms and take the M25 anti-clockwise to the M40 (junction 16). Follow the signs to Oxford as far as junction 4 which is the A404. Turn left onto the A404. Pass Marlow bridge (over the Thames) to a roundabout, straight over to the first turning on the left (about 3/4 mile), signposted for Henley, turn left onto this road to the next roundabout straight over the roundabout signposted Burchetts Green, keep on this road until it meets the A4.
Turn right towards Reading, continue for about six miles until reaching a roundabout signposted to Sonning (Texaco Garage on the left hand side) and take the 4th exit off the roundabout on the A4, after about 50 yards turn left into Milestone Avenue Post Code RG10 9TN the car park is on the left after the houses on the right (about 450 yards).
Tips & Techniques
Baits include caster, hemp, maggot, meat, paste and pellet all work well on their day.
There are a lot of boats in the summer but in our experience we have found that once you get the swim going the boats do not worry the fish, after all, they are there all the time.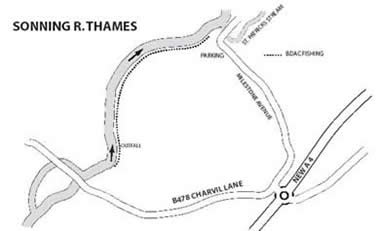 Members Catches
Sunday 10 October, Ray Mouratsing with a 2lb 6oz Perch.